4/7/2015 UPDATE: 16-year-old Philadelphia teen caught and arrested in knocking out a 60-year-old man on a SEPTA train Read Story 
Philadelphia man accidentally stepped on a young man shoe riding the Broad Street Line and an argument ensued. Passengers stepped in and tried to intervene, but the fight carried onto the Subway platform.
The man walked off the train in front of the young guy he was arguing with and was punched from behind and knocked out cold! The man didn't even see the punch coming, and he landed himself in the hospital with a broken jaw!
If the young guy was so angry the man stepped on his shoe why didn't he square up on the train, instead of waiting until the man turned his back and hit him from behind. Hmm. Did the young man think to himself he putting his gloves on, so he might get the best of me if I give him a fair fight?
The way I grew up that's called a punk move! Of course the young man in the video ran after the attack and is now wanted by police.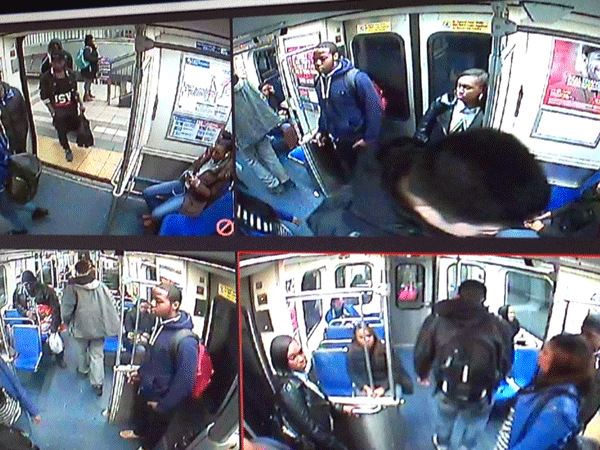 SEPTA police are on the lookout for a young man who knocked out a 60-year-old Market-Frankford El Line passenger on the 15th Street Station platform Monday afternoon.

Thomas J. Nestel III, SEPTA Police's chief, said Tuesday that the incident started inside a train car headed to Center City and escalated to the attack that happened at 3:15 p.m. on the westbound platform of the El's 15th Street Station.

SEPTA police released video of the incident with the hope of identifying the parties involved.
The teen's friend, a young man between the ages of 17 and 19 and dressed in a blue hooded sweatshirt, became confrontational with the older passenger. Tensions escalated throughout the ride, according to Nestel.

The confrontation spilled out onto the 15th Street Station platform once the train stopped.

A group of teens surrounded the victim, and the young man swung from the side and hit the victim's face. The man appears to have been unconscious before he hit the ground, the video shows.

"He never saw it coming," Nestel said.

The victim suffered a broken jaw and an open wound that required stitches, Nestel said.

Nestel said he is not cooperating with authorities, so SEPTA police are asking for anyone with information to contact SEPTA Police at 215-580-8111.